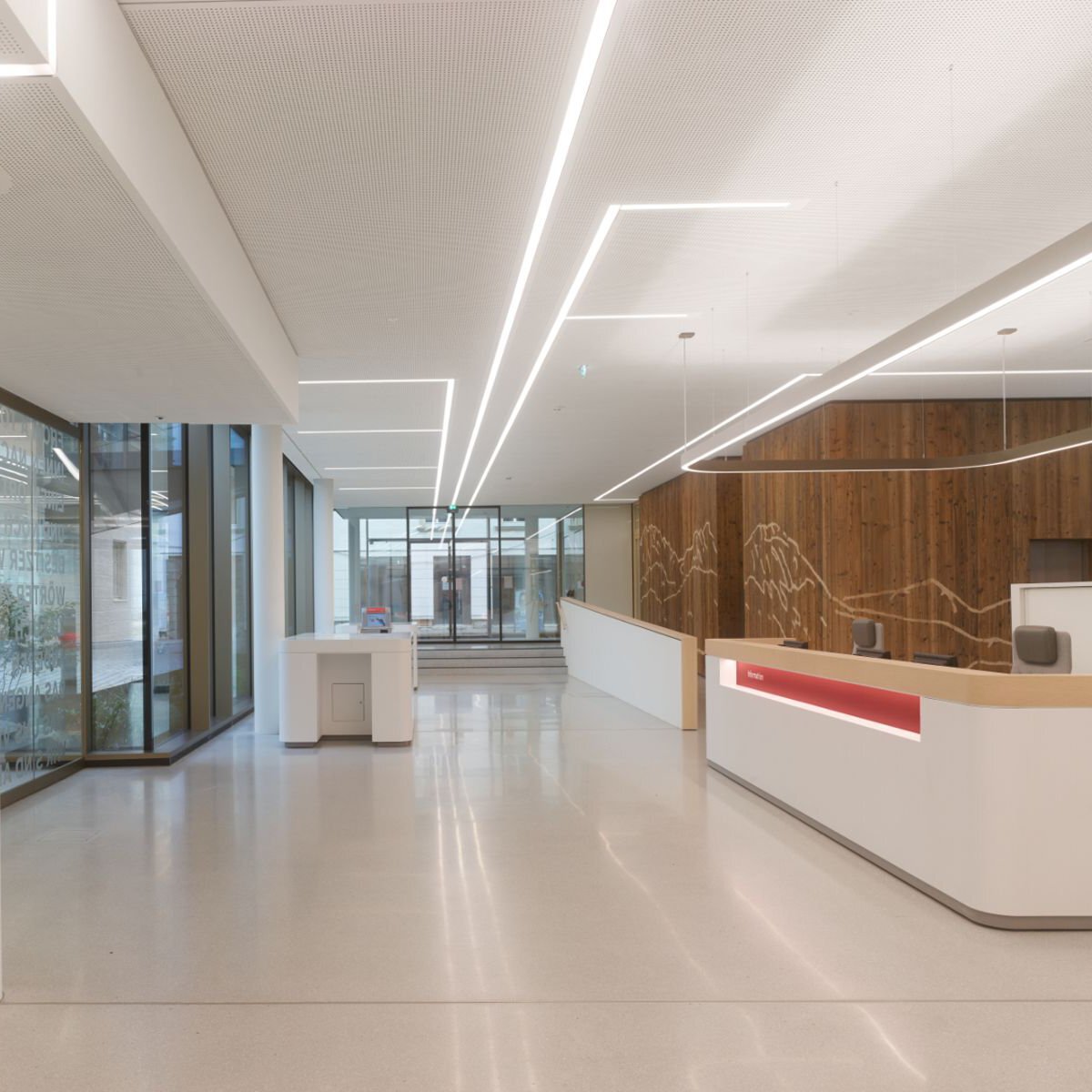 ClientSparkasse Allgäu
Année2018
Emplacement du projetVoir la carte
Premium lighting for new Sparkasse headquarters
On Residenzplatz square in Kempten, next to the neighboring historic building "Langen Stände", the Sparkasse bank has built their new headquarters. The new building - designed by the architects Auer Weber - offers their employees and customers pleasantly open, bright rooms on a floor space of about 6,000 square meters. The sophisticated lighting solution from Zumtobel supports the successful interplay of natural and artificial light.
The new headquarters of the Sparkasse Allgäu, designed by the architects Auer Weber, is replacing the existing building from the 1970s on Königsstraße in Kempten. The neighboring historic landmarks "Weidlehaus" and "Langen Stände", were gentrified by the exemption of their historical facades and naturally integrated into the overall concept of the new Sparkasse.
A compact, four story administration building was built around an inner courtyard, facing the Residenzplatz and Stadtgarten. The new customer foyer with its self-service area, four consultation areas and 17 rooms is located on the ground floor. 210 workplaces in open-space areas, 30 workstations in offices and several meeting rooms are accommodated on the upper three levels.
The material and colour concept by Auer Weber, as well as the individual lighting solution by Zumtobel, which was implemented in cooperation with planning office Frey Ingenieure GmbH from Martinszell and electrical engineering minck GmbH from Marktoberdorf, ensure a pleasant atmosphere for both employees and customers. Thanks to Zumtobel's tunableWhite technology, the custom-fit lighting solution can be tailored to the individual's needs and care for a significantly greater sense of well-being at the workplace.
As a surface-mounted and pendant luminaire, the continuous light line SLOTLIGHT infinity puts the customer area and the offices in the limelight. With SLOTLIGHT infinity, Zumtobel provides architects and designers with a tool for consistently linear design with high precision.
Downlights and wallwashers from the varied PANOS infinity luminaire family also ensure homogeneous lighting of the rooms. At the workstations, the LIGHT FIELDS evolution pendant luminaire provides glare-free light optimised by a perfect interplay of indirect and direct light. Finally, the LED free-standing luminaire LINETIK complements the lighting solution with its clear and minimalist design language, by providing the right light for every employee. All in all, a successful interplay of natural and artificial light was created for this modern new bank.