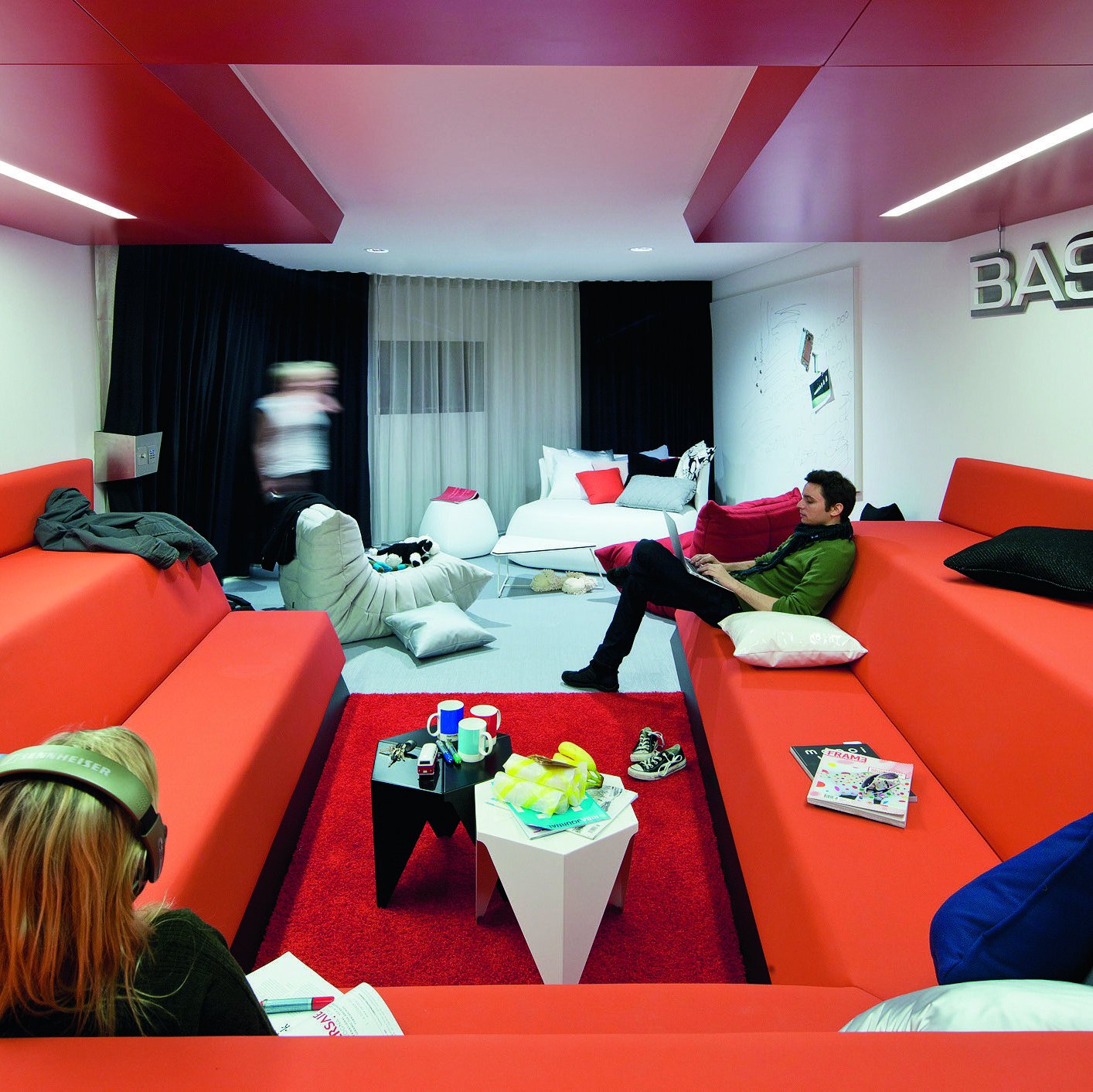 KlantGoogle
Jaar2012
Project locatieToon map
Where work meets play
Vibrant colours, trendy yet functional furniture, walls you can write on and stunning lighting: search engine giant Google's London headquarters are designed with its employees' needs in mind. And combine unconventional and playful elements to create an innovative workplace that encourages creativity and provides plenty of space for new ways of thinking and working. Zumtobel's lighting concept is adapted to the building users' requirements, too.
Anything but boring! The Google headquarters on Buckingham Palace Road show in no uncertain terms that an office building doesn't only have to consist of inflexible open-plan offices, austere meeting rooms and long corridors. London-based architects Penson have developed an unconventional concept for the offices of the search engine giant that doesn't take itself too seriously and combines clever functionality with innovative workplace strategies.
Rooms adapted to the employees
The floors host a colourful mix of rooms with very different functions – from a cafeteria, lounges and a music studio to a wealth of sophisticated meeting and work rooms. Almost all of the walls consist of magnetic whiteboards on which employees can spontaneously note their ideas. In addition to large spaces for working and relaxing, there are also little nooks to which individuals or groups can retreat. The idea is that the rooms adapt to the employees, not the other way round.
Needs-based lighting
"We have also adopted Google's clear desire to place users at the centre in the lighting concept," explains Tom Lobak, Sales Director UK & Ireland at Zumtobel. "Our luminaires reflect the architecture and the requirements of the building's residents. Both are accommodated in the resulting atmosphere: a feeling of well-being, of being able to work in a concentrated, motivated manner, and of being able to have time alone or to interact with colleagues as desired." In the meeting rooms, the round luminaire ONDARIA uses a soft design language, and encourages communication and social interaction, while in the group and break rooms, the LED downlights PANOS infinity and the light lines TECTON and SLOTLIGHT II ensure high-quality light.
Light supports our biorhythms
Light plays an important role in motivating people and, by becoming attuned to their biorhythms, helping them through the working day. With its work on Google's London headquarters, Zumtobel demonstrates how invigorating and inspiring playful interior design can be when combined with optimum lighting.