Sana klinikum offenbach gmbh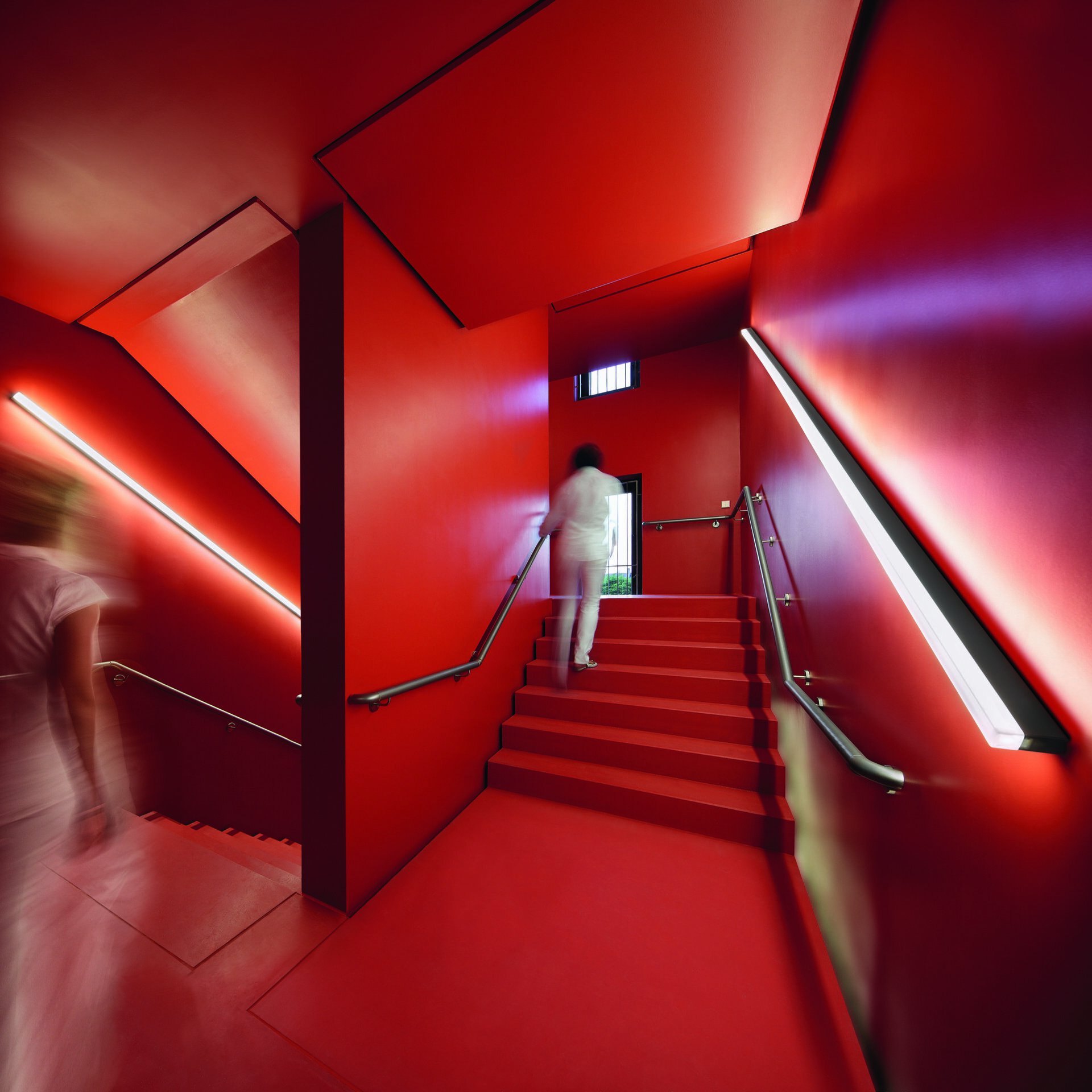 KlantStadt Offenbach
Jaar2010
Project locatieToon map
Light. Power. Colour.
The Sana Klinikum Offenbach looks like a four-pointed comb. In addition to the architectural design, onlookers will also notice the unusual colourfulness of the façade: shimmering red and orange tones give the building a warm appearance. An atmosphere of well-being, which continues inside the building, with an innovative colour, material, lighting and spatial concept. Zumtobel is responsible for the lighting solution, which combines natural and artificial light.
The Sana Klinikum Offenbach holds more than 700 beds. The new building, opened in 2010, combines modern medical technology, highly efficient logistics and operating technology, as well as a strictly people-oriented interior design. The lighting technology fulfils three specific roles: firstly, high-quality, glare-free luminaires support employees as they work. In the patient rooms, light promotes recovery. And intelligent lighting solutions help visitors find their way around the building.
Focus on orientation and well-being
In the two-storey, spacious entrance, a harmonious lighting concept with PANOS downlights and special models of the SLOTLIGHT recessed luminaire help people quickly find their way around. The warm red of the floor reflects on the white wall and ceiling elements and helps the large space appear friendly and pleasant. A navigation system with attractive touches of colour and pattern helps patients and visitors to quickly find the desired department or ward. In the stairwells, LINARIA luminaires accompany the stairs and make an attractive counterpart to the banisters.

Light and colour create a homely effect
"Light is a factor in well-being – especially for people dealing with health issues", says Jens Lohse, Sales Office Manager Frankfurt at Zumtobel. "By perfectly adapting the colour, direction and intensity of the light to the respective situation, we ensure that the patient feels as well cared for and secure as possible despite the unfamiliar environment."
In the patient rooms, Zumtobel's medical supply system is integrated into the furniture – and hides disruptive technology in a high-quality system. During visiting hours, communicative lighting similar to daylight is created, while for reading and during rest phases, subdued lighting ensures the necessary silence and relaxation. The light thus adapts to people's natural biorhythm during the course of the day.
This effect is supported by a special colour concept: in the nursing rooms for adult patients, warm sand and earth tones dominate, while in the children's ward strong colours create a playful, cheerful atmosphere.
Reconciling different needs
Atmosphere of well-being, occupational safety and orientation: patients, medical staff and visitors to hospitals have very different requirements and expectations of optimum lighting. The example of Offenbach shows that intelligent lighting solutions from Zumtobel can reconcile these different requirements.