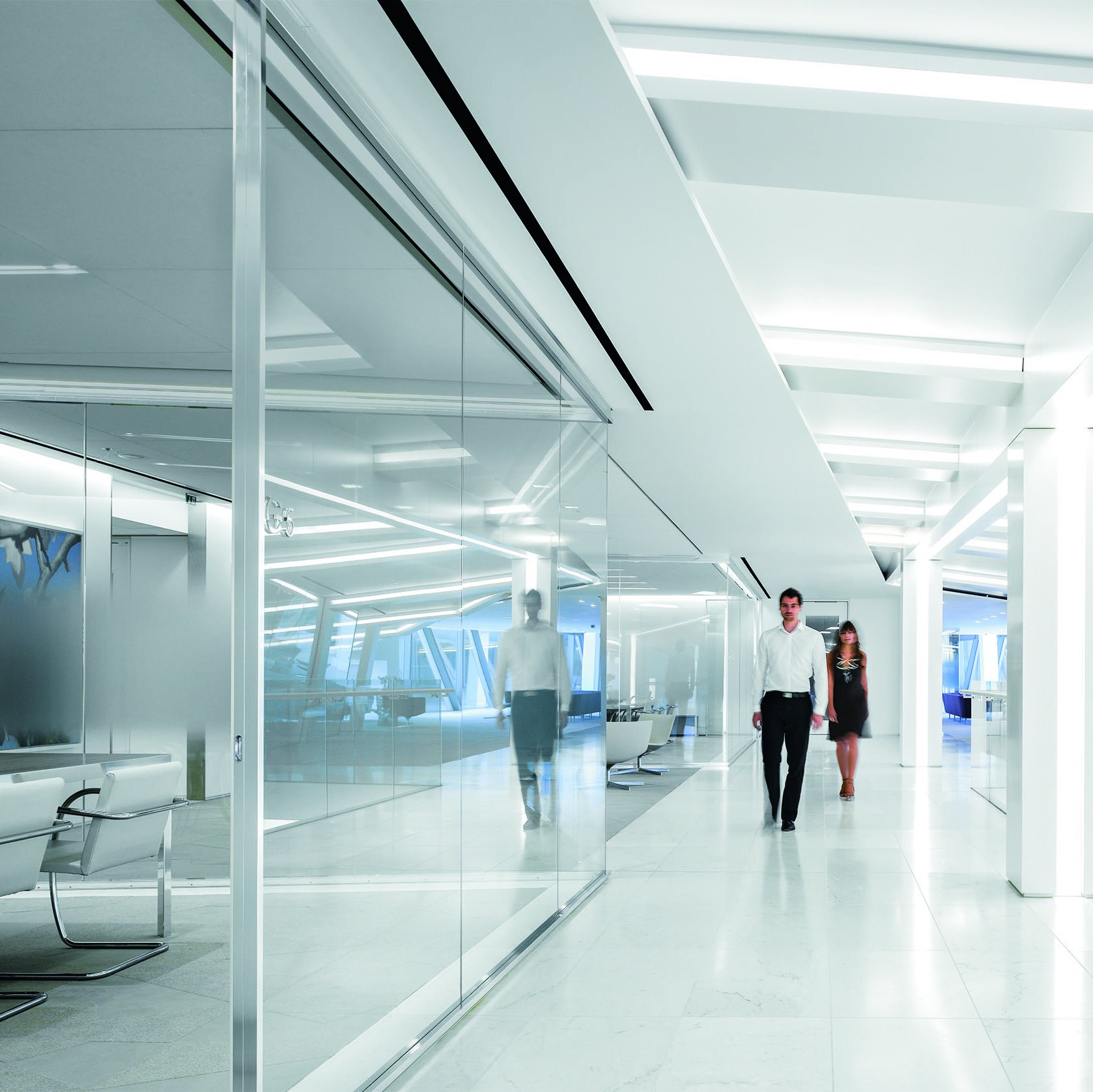 ClientLand Securities
Year2014
Project locationView map
The One New Change shopping and office complex, designed by the French architect Jean Nouvel and developed by Land Securities, undoubtedly boasts the largest and most impressive mirror in London's inner city. Ever-changing fragmented images of the mighty Saint Paul's Cathedral are reflected in the dramatic, multi-faceted façade. The global law firm K&L Gates has set up business on two of the building's four office floors.
Washington-based architects LSM designed the 10,000 square metre office area in cooperation with lighting designer Christopher Seider of Seider Design in Berlin. "For the international expansion of K&L Gates, we developed a clear and modern aesthetic with a unique synergy of light, spatial expression and incorporating of artwork," says Debra Lehman-Smith, design partner at LSM. "Important aspects of this concept are the use of daylight and integration with the surrounding environment."

From the reception area, the café and the large conference rooms, one has a direct view of the dome of the Baroque cathedral amidst multifarious reflections. The interplay of space and illusion is so typical of that period in history and it continues in the contemporary manner in the K&L Gates interior spaces. Customised continuous row SLOTLIGHT from Zumtobel provide the basic lighting by accenting the edges of the ceiling planes and columns. The light axes are mirrored in the numerous transparent glass interior walls, overlapped with fragmented Baroque images.

The continuous row lighting also serves to subtly delineate the different areas of the office: while a colour temperature of 3,000 K dominates the general areas, the workspaces are illuminated with 4,000 K.

The result of this intensive cooperation between the architect, lighting designer and luminaire manufacturer is a simple, elegant and characteristic continuum of lines, images and space.
We have been working with K&L Gates for nearly 20 years. But the London project is truly the pinnacle of this process.
Debra Lehman-Smith, Architect